11 May

Persian Love Cake

Persian Love Cake is a soft and dense cake that originates in Iran. Legend has it that this cake was invented by young woman in love with a Persian Prince. To try and win his affection, she baked him this magical Persian Love Cake. Whether it worked or not is unknown, but the good news is the recipe was recorded for us to make and enjoy forever more!

Rose water is not my usually favourite flavour – I tend to find it too perfume-like in most recipes. So instead of using rose water in the cake, I used Lancewood's Turkish Delight Double Cream Yoghurt. It adds just the subtlest hint of rose that balances the citrus and spices perfectly! There is a touch of rose water in the icing but just enough to add a fragrant note that is befitting to such an exotic cake. A simple decoration of fresh pistachios and rose petals transforms the cake into an instant showstopper – perfect for Mother's Day or a special birthday.

Persian Love Cake is made with almond flour, which gives it a lovely dense and moist texture, and also means the cake keeps well for several days if well-wrapped in foil.

This post is sponsored by Lancewood. All text and opinions are 100% my own.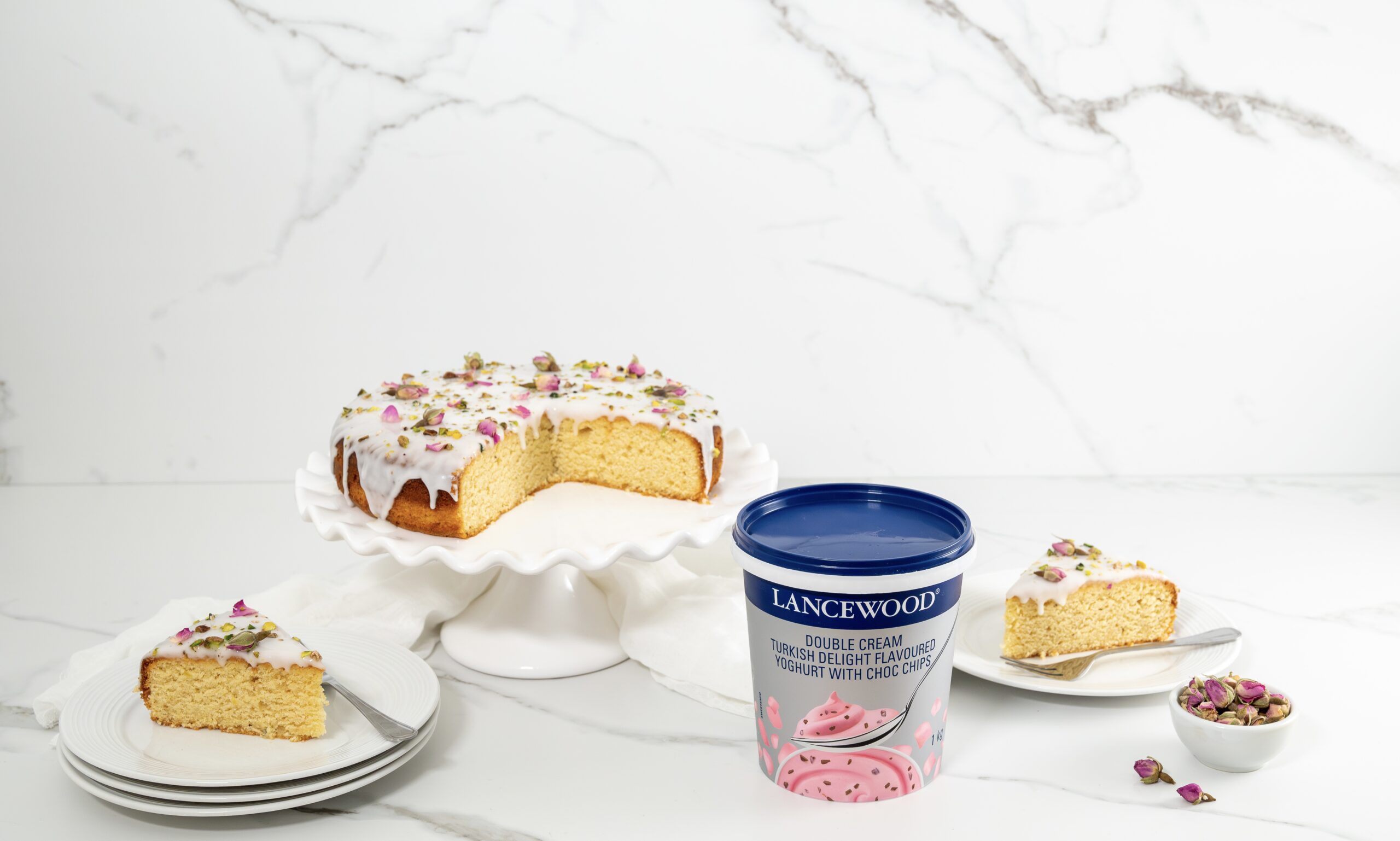 Ingredients:
(Serves10)
Cake:
175g butter, room temperature
200g sugar
3 large eggs
140g cake flour (1 cup)
200g almond flour (2 cups)
10ml baking powder (2 tsp)
7,5ml ground cardamom (1 ½ tsp)
1,25ml nutmeg (¼ tsp)
125ml Lancewood Turkish Delight Double Cream Yoghurt (½ cup)
5ml finely grated lemon zest (1 tsp)

Glaze:
190g icing sugar (1½ cups), sifted
15ml lemon juice (1 tbsp)
10ml rose water (2 tsp)
15ml water (1 tbsp)

To decorate:
30ml chopped pistachios (2 tbsp)
30ml rose petals (2 tbsp)
Directions:
Preheat the oven to 170°C. Grease and line a 23cm round springform tin with baking paper.
Cream together the butter and sugar until light and fluffy. Add the eggs, one at a time, mixing well after each addition.
In a separate bowl add the flour, almond flour, baking powder, ground cardamom and nutmeg. Whisk together.
Add half of the dry ingredients to the creamed mixture and beat well.
Add the Lancewood Turkish Delight Double Cream Yoghurt and mix well, then add the remaining dry ingredients.
Lastly add the lemon zest and beat until well combined.
Spoon the batter to the prepared tin and spread evenly. Bake for 45-50 minutes, or until a skewer inserted into the centre of the cake comes out clean.
Meanwhile, make the glaze. Add the icing sugar to a bowl, then add the lemon juice and rose water. Mix well, then add just enough water to form a thick glaze.
Allow the cake to cool in the tin for 15 minutes, then carefully remove and cool completely on a cooling rack.
Pour the glaze over the centre of the cake and use an offset spatula or knife to guide the glaze to the edges so that it drips over in places.
Decorate with the chopped pistachios and rose petals.
Store the cake well-wrapped in foil or clingfilm in an airtight container for up to 5 days.